Sicilians in America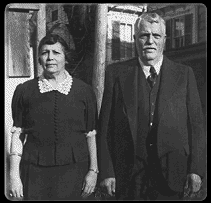 Mamie and Thomas Cinno
Welcome!
New:
The Cefal¨ Mailing List and Surname Database - Click here!
New Cathedral Cemetery pages - Updated 8/17/01

This site is dedicated to my great-grandparents from Cefalù, Sicily, and their descendants.
The family tree is expanded to include the extended family as well. Just click on the appropriate links. Some of our family names are in the header graphic above.
The purpose of this site is to provide more than just a simple list of names and birth dates. Additional information and pictures are provided where possible. Comments and/or questions are welcomed by the webmaster.
If you would like to be notified by e-mail when this site is updated, or when additional discoveries are made, just drop me a note. Enjoy your visit!

---
Note for all of Sicilian and Southern Italian heritage: If you see any of your family names in our tree, I'll be glad to provide a link to your web site or e-mail address on our links page.